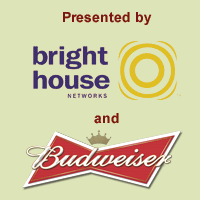 April 12, 13 & 14, 2013
Manatee County Fairgrounds
VOLUNTEERS

Please consider volunteering your time at the 6th Annual Gulf Coast Rhythm & Ribfest. You will not only have fun volunteering at the event, but are able to stay before and after your shifts to enjoy the music and food. It will truly be a great weekend!
RIBMASTERS

"Greatest Ribs in America", "Golden Ribs Award", "Best Sauce in the Nation" and numerous "People's Choice Awards" are just a few of the Titles and Awards, the attending Rib Masters share amongst them. Last year's winners of the "Best Ribs" and "Best Sauce" Awards will attend again and are ready to defend their titles.
TICKETS
Purchase tickets online, at participating Walgreens stores or at the gate.
KIDS FEST


Families will find plenty to do and will enjoy Games, Rides, Prizes, Thrill Shows, and Live Entertainment in our Interactive Kid's Fun Zone.

SPONSORSHIP OPPORTUNITIES


Sponsorship and Vendor Opportunities are still available. Last years event attracted over 25,000 attendees. This year's event is even bigger and better and is expected to draw 30,000 visitors from Manatee and the surrounding counties to the Manatee Fairgrounds.
WELCOME TO GULF COAST RHYTHM & RIBFEST 2013
Join us for Gulf Coast Rhythm & Rib Fest 2013. In only its seventh year, Rhythm & Rib Fest is fast becoming the most exciting, diverse, and anticipated event on Florida's Gulf Coast. We feature a mix of great music, fantastic food from across the U.S., and lots of fun for the entire family. Smoke will fill the air as the top Rib Teams from across the Nation return to serve up their award winning recipes and to compete for this year's top honors.
In addition to the outstanding food, music lovers will be entertained by a variety of local, regional and National bands. No other event on the Gulf Coast of Florida provides such a diverse mix of Country, Blues, Jazz, Pop, and Rock music. Past performers at Rib Fest include Charlie Daniels, the Marshall Tucker Band, Kellie Pickler, The Outlaws, Tank, Lloyd, Rare Earth, Molly Hatchet, The Grass Roots, Trent Tomlinson, Rick Derringer, Gerald Albright, Eric Darius, Avant, One Night Rodeo, Ginuwine, David Nail, NAJEE, WAR, Tyrese, and many more.
WHY should my Company get involved?
Last year more than 20,000 attended Gulf Coast Rhythm & Ribfest and enjoyed incredible performances by WAR, Molly Hatchett, Marshall Tucker, Tyrese, and others. Each year this event gets bigger and better, and 2013 will be no different. We've expanded our incredible lineup and added even more exciting events to our festival.
Past Sponsors


Location, Location, Location. . .
Located just south of Tampa Bay on the Gulf Coast of Florida, the beautiful counties of Manatee and Sarasota are home to more than 600,000 residents. This event reaches a diverse cross-section of residents and visitors in the Central Florida area during the peak of tourist season. Sponsorship of the Gulf Coast Rhythm & Rib Fest 2013 is a unique opportunity for corporate branding, media driven tie-in's that enhance retail traffic, and provide cross marketing opportunities with our extensive $200,000 Television, Radio, and Print campaign.
WHO does the Rhythm & Rib Fest benefit?
"A Party with a Purpose" - The Gulf Coast Rhythm & Rib Fest 2013 is a major annual fundraising event benefiting United Community Centers, Inc. who has provided educational, social and recreational programs to thousands of low income At-risk youth throughout Manatee County since its inception in 1937. These Community Centers located throughout Manatee County Florida have helped disadvantaged youth find healthy solutions to the problems of poverty, drugs, crime, teen pregnancy and low self-esteem. United Community Centers, Inc. is a 501(c) 3 not-for-profit organization and all or a portion of contributions are tax-deductible.
JOIN our BIG Celebration Today!
Don't miss your opportunity to place your products and services in front of the THOUSANDS that will attend Gulf Coast Rhythm and Rib Fest. Choose one of the attached sponsorship levels or call us to customize a package "Just for You".
We look forward to seeing you at Rib Fest!
Patrick Carnegie
President & CEO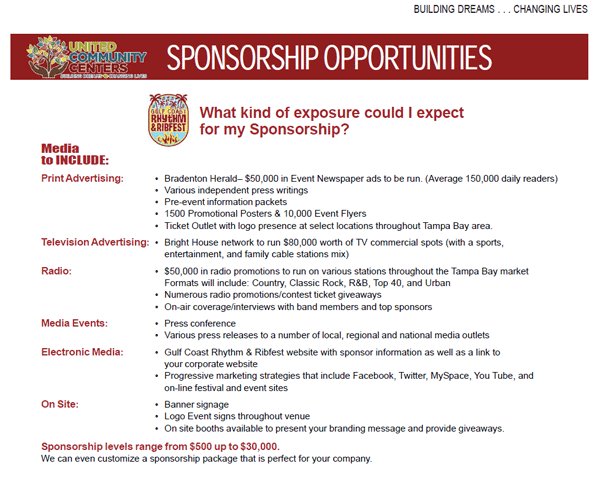 A partial list of past sponsors include: Title Sponsor - Bright House NETWORKS, Michelob Light, Champs Sports, Pepsi, Coast Bank, M& I Bank, Bradenton Herald, TV –ONE, 107.9 WSRZ, 94.1 WSJT Smooth Jazz, 106.5 WCTQ Clear Channel The Best new Country, Phoenix Marketing, Manatee Apparel Graphics, Zio's Pizzeria.

Please contact us via email or call us at 941-746-7470
regarding all Sponsorship Opportunities.