Balance Pilates & Yoga Centers also offers SMALL, personal group classes. Limiting class sizes while providing cutting-edge, affordable group exercise is what Balance is known for.
Students must take a minimum of 2 private sessions in order to enroll in our Group Equipment Classes
Reformer for Everybody (up to 6 students)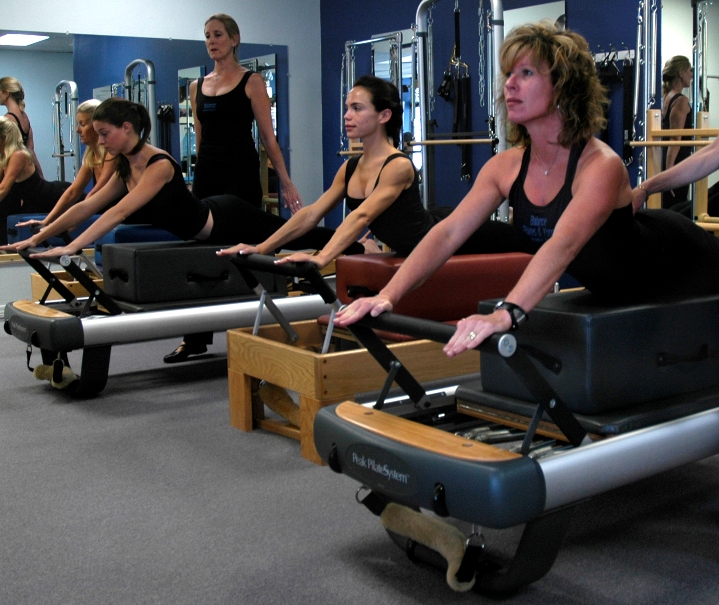 The Pilates Reformer class is a group equipment class using the Peak Pilates® Reformer. This routine is performed without music, and requires focus and concentration by the students as they listen carefully to the cues of their Instructor. This is a non-impact exercise, and is excellent for people with joint and back problems. In order to participate in a Pilates Reformer group equipment class, students must complete at least 2 hours of personal (private) training on the Reformer with an Instructor, and get clearance from their Instructor. This is for the safety of the student, and helps with the flow of the class for others.
Pilates Reformer/Chair Combo (up to 6 students)
A fast-paced group equipment class utilizing the Peak Pilates Reformer, and the MVe Chair! This is an exciting class split into two distinct thirty minute blocks- Reformer work for everybody and the progressive standing work of the Peak Pilates MVe chair. Although this class is designed for everybody, it adds challenge to the basic reformer workout. This is a great way to be introduced to the MVe Chair if you haven't tried it already!
Pilates Reformer/Tower Combo (up to 6 students)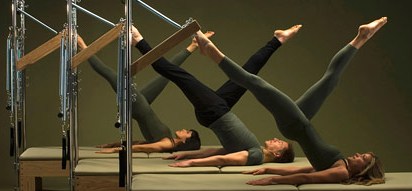 A dynamic duo group equipment class of both the Pilates Reformer and Tower. 30 minute blocks will combine to strengthen and lengthen, and build endurance. The Pilates Tower utilizes springs for resistance and incorporates many of the movements from the matwork, both challenging them and supporting them.